✅ NEW - get your business listed and your information shared across social media.
Mohammed Audu, Eldest Son of Prince Abubakar Audu, a ormer Governor of Kogi State and All Progressives Congress (APC) candidate in the November 21, 2015, has revealed the real cause of his father's death.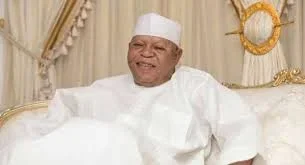 Speaking with The Sun Newspaper, Mohammed said his father died of ulcer and not spiritual attack as was widely reported in the media.
"We didn't grow up to believe in any spiritual attack. More so, I know that he died of bleeding peptic ulcer. I knew he was under pressure, I knew a lot of things went wrong at the time, but then, as for the election, he was coasting home to victory.
"Not that he was going to win; he had won. It was just for the miscalculation of INEC that made them to say it was inconclusive. But in my opinion, he had won fair and square."
Prince Audu died on November 22, 2015.