✅ NEW - get your business listed and your information shared across social media.
Kuje Medium Security Prison, Abuja, has played host to both ordinary and eminent Nigerians. In recent times, some of the high profile inmates include the National Publicity Secretary of the Peoples Democratic Party (PDP), Olisa Metuh, former Minister of Interior, Comrade Abba Moro and the chairman, DAAR Communications Plc, Chief Raymond Dokpesi.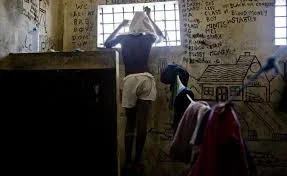 The leader of the Indigenous People of Biafra (IPOB), Nnamdi Kanu, former Chairman of the House of Representatives Adhoc Committee on Fuel Subsidy, Hon Faruk Lawan, the chief security officer to the late General Sani Abacha, Major Hamza Al-Mustapha and former aide to the late Chief MKO Abiola, Lateef Shofolahan are either still tasting or had tasted the flavour of Kuje Prison.
Despite gradually becoming the second home for prominent Nigerians in the bad books of the Economic and Financial Crimes Commission (EFCC), the recent escape of two culpable homicide awaiting trial inmates brought the prison into focus. Its security has become a huge concern to not a few Nigerians.
The Sun in a report investigates life in the prison as well as factors which culminates in the jail break. Findings reveal the following 4 as initial reasons for the break:
1. Issues at the prison: This include alleged compromise by prison officials, unfavourable criminal justice system and personality influence by the inmates.
2. Deterioration of security: Beyond the multiple security measures and check points at the entrance to Kuje Prison and even the newly constructed observatory tower and aside the thorough screening of visitors, staff and edibles for the self-feeding inmates, the porous nature of security at the prison is visible.
3. Inmates live larger than life: There is a flagrant disobedience to the prison rules by influential VIPs and high profile prisoners.
4. Division of prison staff along religious lines: There are always division among the prison staff along religious and ethnic lines each time a VIP is taken into custody, a source revealed to Sun. He explained that such division was also noticeable in the de-radicalisation of the Boko Haram insurgence programme:
Last edited: