✅ NEW - car park, swimming pool, 24 hours light/security and more.
There was confusion at the Lagos State Secretariat on Tuesday after an office in the Lagos State Ministry of Energy was gutted by fire.
Civil servants in Block 6, which housed the ministry and the state Ministry of Wealth Creation, fled the building to the car park immediately the fire started around 2pm.
It was gathered that the fire was caused by a power surge after electricity was restored to the building.
PUNCH reports that the fire started from the rack housing the Internet server at the ministry's account department.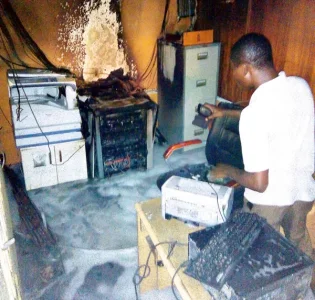 It was, however, gathered that a lady in the department saved the day by discovering the source of the fire and alerting her bosses, who in turn called the state fire service.
The Director, Administrative and Human Resources of the ministry, Mrs. Fiyinfoluwa Ogunbanke, said, "The fire emanated from the Internet rack in the account department. The server was not switched off when power went off and when power was restored, it caused the fire."
She described the incident as minor, saying there was no casualty. She, however, added that the ministry needed more time to take stock of materials that might have been consumed by the fire.
- PUNCH