✅ NEW - car park, swimming pool, 24 hours light/security and more.
Lagos Sate Governor, Akinwunmi Ambode, at the weekend said that the proposed Bus Reform Initiative aimed at giving Lagosians an integrated public transportation system would kick start this year with a sinking fund of N30 billion.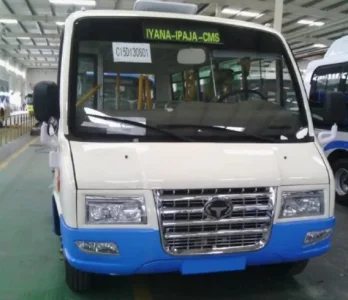 Governor Ambode, who spoke to journalists, said his administration had identified the challenges Lagosians go through on a daily basis commuting via public transportation, saying the reform was aimed at providing a viable alternative.
He said the Bus Reform Initiative is a three-year plan aimed at introducing over 5000 air-conditioned buses to replace the yellow commercial buses, popularly called Danfo, which according to him, was no longer befitting for the State's mega city status.
"We decided that the best thing is to allow the yellow buses go and so the Bus Reform Initiative itself is a three-year plan of 2017 to 2019 in which it intends to bring in new buses of 5,000 units in the three-year plan.
"The bigger size buses will take 70 people and then the medium range buses will take 30 people. We believe that the middle range buses will be supplied up to 70 per cent of the total volume which will amount to about 3,600 units and then the longer range in that direction," he said.
Speaking on how the government intends to fund the initiative, the governor said that his administration would launch a public transportation infrastructure bond of N100 billion that would span between seven and 10 years, revealing that the government already has a sinking fund which it intends to put into the bond.