✅ NEW - car park, swimming pool, 24 hours light/security and more.
The family planning clinics installed by the Nigerian Urban Reproductive Health Initiative (NURHI) in selected Primary Healthcare Clinics (PHCs) in Lagos State are yielding the desired benefits, the users say.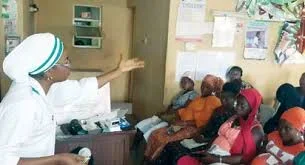 To assist Lagos State residents to attain quality life, NURHI in 2016 began a 72-hour renovation and equipping of family planning clinics in 50 selected public health facilities in the state.
A tour of the facilities by an NGO, Development Communications (DEVCOMS) with the media showed that the residents in the areas that have the facilities had begun to reap the benefits through safe childbirth.
Dr Edun Omasanjuwa, Lagos State Team Leader of NURHI, told NAN on Wednesday in Lagos that NURHI embarked on the project because of the connection between family planning and quality of life.
Some of the facilities include the Anikulapo PHC in Mushin, Ketu Alapere PHC in Kosofe, Sango PHC in Agege and the Ajeromi General Hospital, Tolu and Layeni PHCs in Ajeromi Ifelodun LGA.
Others are the Shomolu General Hospital, Orile Agege General Hospital, Ibafon PHC in Ajegunle , Itire Ijesha PHC and Lakowe PHC. At Itire-Ijesha PHC, Mrs Yetunde Idowu, a 42-year-old mother of three, said that she was happy to access family planning clinic.
At Itire-Ijesha PHC, Mrs Yetunde Idowu, a 42-year-old mother of three, said that she was happy to access family planning clinic.
According to her, the environment is more conducive as she felt at home being counselled and given her preferred method. She said that her body did not accept the implant method and that she had to opt for pills having been tested and counselled.
Idowu said that she had encouraged many women in her neighbourhood to go for family planning as it would help to make the quality of their lives better.
Rukayat Abdullahi told NAN that having accessed a family planning method from the renovated family planning clinic at Ibafon PHC; she had no fear of unwanted pregnancy during sex with her husband. According to her, she is using implants.
Abdullahi said that she already had four children and wanted a break before thinking of whether to have more.
For Maria Udoh, she was convinced to use a family planning method by a community mobiliser, shortly after the inauguration of the clinic. "The mobiliser told me of the importance of family planning and she made me to understand that it will not stop me from having more children if I wanted.
"Rather, family planning will give me time to recover from the wear and tear of my previous pregnancies and also give me time to work and save money.
"She informed me that family planning will make me to have more time for my children and husband; I talked to my husband and he accepted too. "My husband is even using condoms while I am using the Intra-Uterine Device (IUD). "The good thing about this clinic is that the commodities are available and free,'' Udoh said.
Mrs Cecilia Oluborode, Chief Nursing Officer at Ibafon PHC, told NAN: "There has been an increase in awareness about family planning and its benefits, especially in an economy that is faced with recession. "Due to the overwhelming increase in the country's population coupled with limited resources to provide for the needs of the people, there is dire need for family planning advocacy. "NURHI, which is on its second phase with Lagos State as one of its target locations is partnering with the Ministry of Health in this advocacy.