Leadership Newspaper, the Nigeria's most influential newspaper has named former President, Goodluck Jonathan as the person of the Year, 2015.
According to the newspaper: "Many will wonder how former President Goodluck Ebele Jonathan qualified as our man of the year. It is not mere happenstance. In spite of our critical stance against his style of governance, it is difficult to ignore his resolve to quit in consonance with the people's will desire for change. It was an act of courage; and it was the first of its kind in Nigeria. In this regard, the former president has set a very high standard for future leaders to follow.
By erring on the side of caution and putting the nation before self, after losing the March 28 presidential polls, Jonathan has secured his place in history and the pantheon of statesmen."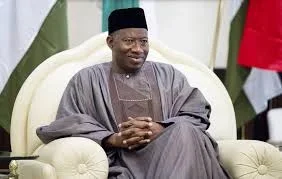 "His job performance record may have been a disaster; but his decision to yield to the will of the people was a masterstroke, a final act of self-redemption", the Newpaper stated.
It will be recall that the African Sun Times in the United States had earlier on December 31st acknowledged and named former President Goodluck Jonathan as its Person of the Year through his deliberate act to concede defeat during the 2015 general elections in Nigeria.
Also, on the list are former INEC Boss, Attahiru Jega, president Mohammadu Buhari, Alhaji Ibrahim Hassan Dankwambo, Goveror of Gombe as Governor of the Year, yakubu Dogara as politician of the Year, Rasheed Adejare Olaoluwa (MD/CEO, Bank of Industry, BOI) as Banker of the year, Oba Otudeko (Chairman, Honeywell Group), Business person of the year, Boboye Oyeyemi (Corps Marshal/CEO, Federal Road Safety Commission, FRSC), Public Officer of the year, Simone Volpi (MD, INTELS Nigeria Limited ), CEO of the year, CBN as Government agency of the year, Dangote Cement as Product brand of the year, Heritage Bank as Company of the year, Access Bank as Bank of the year etc
[2400]