✅ NEW - car park, swimming pool, 24 hours light/security and more.
President Muhammadu Buhari has spent more days in trips to different parts of the world since he was sworn in on May 29, 2015 compared to travels within the country. The president's frequent foreign trips have come under scrutiny and criticism as Nigeria faces myriad crises, from intractable fuel shortages to terrorist assaults in the country's northeast.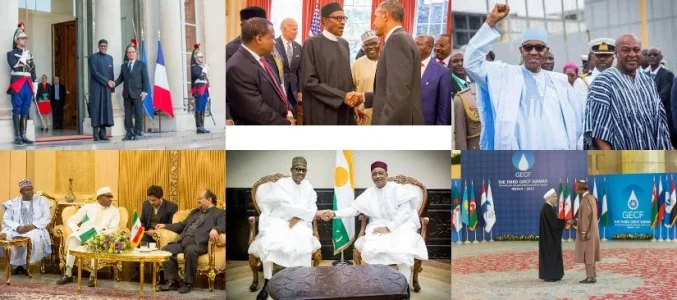 An audit of Mr. Buhari's itinerary has showed that the Nigerian president has traveled to;
Chad

Germany

Ghana

South Africa

U.S (Twice)

You can read - Buhari Jets Off To Malta For Commonwealth Meeting

Cameroun

India

Iran

Over the weekend, President is expect to be in

Malta
for commonwealth meeting and

France
for the UN Cimate Change conference
In SaharaReporters analysis, by contrast, the President has made very few official trips within Nigeria. Research indicates that President Buhari has made official trips to a relatively few number of states, including Cross Rivers, Kaduna and Adamawa states. The president also visited Ogun State just yesterday to attend the burial of Mrs. Hannah I.D. Awolowo, wife of the late Nigerian political leader, Obafemi Awolowo.
In addition to visiting his home state of Katsina, Mr. Buhari has also recently visited Kebbi State recently where he launched a N20 billion 'Anchor Borrowers' program initiated by the Central Bank of Nigeria for rice farmers across the country.