- Actor Matteo Guidicelli flaunted several cheesy acts with girlfriend Sarah Geronimo - These happened during his concert with Carlo Aquino at the Music Museum - The sweet acts of Matteo evidently caused a loud cheer from the audience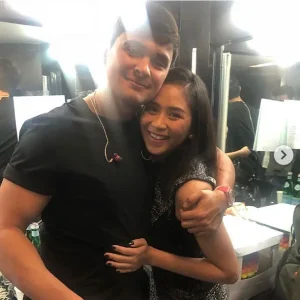 Kapamilya actor Matteo Guidicelli was proud to show off for how many times his sweetness with long-time girlfriend Sarah Geronimo in the middle of a concert stage. The promising actor had a much-talked-about concert with Carlo Aquino at the Music Museum on November 17.
Aside from the hit songs that the two performed, Matteo's sweetness to his girlfriend who was just watching at the bench highlighted the event. In one of the actor's performances, he dedicated the song "You Are The Reason" to the pop star royalty which also drew "kilig" from the audience. Before he sang the meaningful music, the Kapamilya heartthrob acknowledged the girl who continues to serve as his inspiration for the past couple of years. "There's always somebody who's giving me inspiration, and this song is for her. She's the reason," Matteo stated.
The actor also did not hesitate to sing directly to Sarah whose smile was seen in the videos uploaded on social media. There was also a part in the concert where Matteo wore a jacket that wrote his initials "MG" and the initials of Sarah which is "SG."
At the end of the program, when the celebrity was thanking the sponsors of the event, he once again mentioned his girlfriend and called him "my love" in front of the audience. "Thank you, my love!" the former Bagani star quipped which also drew a loud cheer from the audience.
Previously, the Kapamilya heartthrob generously granted the special wish of a blind fan. Matteo, or real life, was born on March 26, 1990. He is a Filipino-Italian actor, model, triathlete, and singer. He has been reportedly in a "low-key" relationship with Sarah since 2014.
Find the original story on
https://kami.com.ph/entertainment/