✅ NEW - car park, swimming pool, 24 hours light/security and more.
Defunct militant group, the Movement for the Emancipation of the Niger Delta, MEND, has lambasted Niger Delta Avengers, NDA, over its resumed attacks on pipeline installations in the Niger Delta region.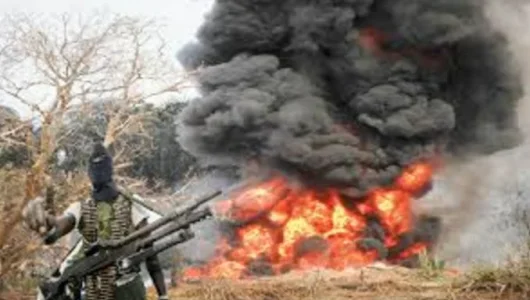 Avengers which had in August announced a ceasefire to allow window of negotiation with the Federal Government, had on Friday resumed hostility with the blowing up of Bonny 48 inches crude oil Export Line in Port Harcourt, Rivers State,
The spokesman of the rampaging militant group, Mudoch Agbinibo had on Saturday while announcing the attack said it was "just a wake-up call."
However, MEND while frowning at the attack described Avengers action as "immature" and "arrogant."
In a statement by its spokesman, Gbomo Jomo, the former militant group said,"The Movement for the Emancipation of the Niger Delta (MEND) dissociates itself from the 'holier than thou' and arrogant attitude of the Pan-Niger Delta Group over the proposed Niger Delta Summit convened by the Federal Government.
"MEND also condemns in very strong terms the unstable, destructive and immature behaviour of the Niger Delta Avengers who resume hostilities at the slightest lame excuse.
"We believe that the right approach would have been to attend this Summit as a precursor to future intensive interactions and dialogue with government. A boycott at this stage, in our opinion was rather hasty."