✅ NEW - car park, swimming pool, 24 hours light/security and more.
Nigeria -
Students of Madonna university has come forth with an agonizing tale of how authorities of the university ordered his abduction torture.
Final year Engineering student of Akpugo campus, Enugu, Stanley Okoye, says he and his friend, Lord Galim, were locked in a vehicle boot and abducted by the institution's Dean, Student Affairs, Rev. Fr. Isaac Jinga, and the Chief Security Officer, Ogbonna Oke before being tortured to death point.
The authorities reportedly said the CSO was attacked outside the campus and they suspected the duo of having a hand in it.
Okoye alleged that he was beaten so badly that he suffered a spinal injury and sustained cuts on his face and all over his body while his friend had a fractured upper and lower jaws, internal and external ear injuries, torn lips, bloodied eyes and abdominal and chest pains.
After their ordeal, the two students were allegedly taken secretly to the Madonna University Teaching Hospital, Elele, Rivers State for surgeries by their torturers, who seized their phones to prevent them from communicating with their families.
For the criminal attack on the two students, Jinga and Oke were arraigned by the police at an Nkanu West Magistrate Court, Enugu on July 14, 2015 on a two-count charge of felony, causing grievous bodily harm with intent to maim, and disfigure their victims.
Okoye's parents had also taken the matter further by instituting a N1bn suit against the university authorities at the Federal High Court, Enugu, for the criminal assault on their son and his friend.
click here to read full story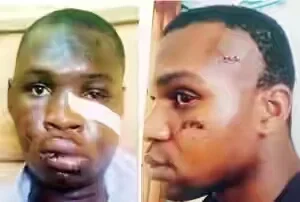 PUNCH