Irked by the spate of fraud in various sectors of the economy, the Lagos State Governor, Babatunde Fashola, yesterday challenged the National Assembly and the Institute of Chartered Accountants of Nigeria, ICAN, to probe the exact figure of the alleged missing oil revenue.
He said whether the exact figure is N45 billion or $10 billion, "no amount of public revenue is too meagre, urging Nigerians, especially the lawmakers and chattered accountants to probe the claim of the Nigerian National Petroleum Corporation, NNPC, over the exact missing revenue."
Disturbed by the continuous loss of lives resulting from corruption and lack of vision to develop a better transportation system, the governor lampooned the Federal Government over its inability to develop a better transportation system for fuel transportation within the country.
He said that in spite of the huge revenue made from oil, Nigeria is one of the few oil producing nations of the world still transporting fuel with trucks through the cities.
Click here to read more
Source: National Mirror Newspaper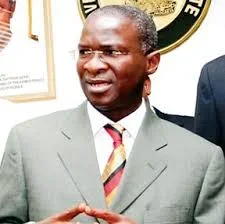 [1164]