The Ekiti State Governor, Ayodele Fayose, has vowed to ensure that the Peoples Democratic Party, PDP, takes over power from the President Muhammadu Buhari-led Federal Government.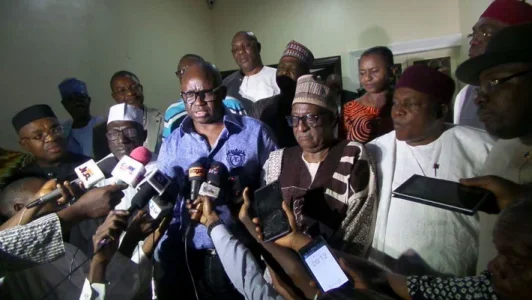 Fayose made the remark, shortly after his counterpart from Bayelsa State, Seriake Dickson announced him as the new Chairman of the PDP governors' forum, on Friday in Abuja.
Speaking on his new role, Fayose said he accepted the responsibility to work as chairman of the Forum.
The governor promised to work with stakeholders, including the National Assembly, to restore the glory of the PDP.
According to Fayose, "I take this responsibility at a time the party needs somebody to stand up. I am sure you all know that we will do it to represent Nigerians well.
"It is a call to pull the walls of Jericho down; it is a call to make a difference.
"I want to assure you that within the next few months, the mobilisation, the consultation will be so effective and there will be a new beginning for our party – different and enriching.
"I will take over from where he stopped. Come 2019, we will take over again; we are going to come back again."