✅ NEW - get your business listed and your information shared across social media.
An Abuja high court has discharged and acquitted former Head of Service, Steve Oronsanye of the 7-count corruption charges slammed on him by Federal Government.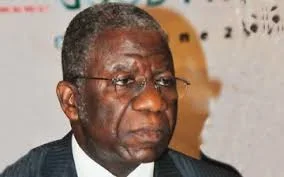 Oronsaye, who was also the Chairman, Presidential Committee on Financial Action Task Force, set up by former President Goodluck Jonathan, was docked on a seven-count charge, bordering on breach of trust and diversion of N190 million meant for the committee he chaired.
Justice Olasumbo Goodluck, in her ruling on the no-case submission filed by Mr. Oronsaye, held that the prosecution failed to establish a prima facie case against Oronsaye.
"There was contradictory evidence by the prosecution witnesses on whether the defendant was still the head of service as at the time he chaired the committee. The court seems to discredit the evidence, suffice it to say that there is no evidence linking the accused with the statutory element and ingredients of the offence with which he is charged.
"The court of trial must as a matter of law discharge him because it has no business scanting for evidence that is nowhere to be found. I have looked through the case and I am unable to see any justifications for this case.
"The defendant is hereby discharged," she held.