Nigerian naira on Monday appreciated 1.1 per cent to close at 455 to a dollar at the parallel market.
The currency gained 13 per cent last week after the Central Bank of Nigeria auctioned $230 million in forward contracts on the official market after selling $370 million this week to boost dollar liquidity and help narrow the gap between the official and black market rates.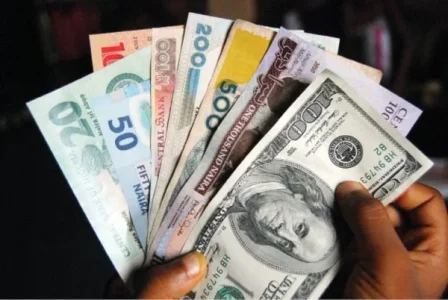 The apex bank also sold $1.5 million on the spot market to help keep interbank rates at N305.50 per dollar. On the parallel market the naira firmed to N460 after opening at 520 last Monday.
At the official rate, the currency closed flat against the dollar at 305.50
Meanwhile, financial experts say the currency will continue appreciating if the status quo is maintained.
"There is always a restriction point beyond which the exchange cannot cross except there is a huge forex inflow to breach that ceiling," a currency analyst at Ecobank Nigeria, Mr. Kunle Ezun, said.
"The naira will gain further but it won't be like last week's own."
The Managing Director, Financial Derivatives Company Limited, Mr. Bismarck Rewane, praised CBN for the move and wondered why it took the apex bank so long to follow the course of action.
[4025]