✅ NEW - get your business listed and your information shared across social media.
A native doctor, Babatunde Ajisoloye, was on Friday arraigned before an Ikeja High Court for alleged sexual assault and rape.
Ajisoloye, however denied the two-count charge with no legal representation in court.
The prosecutor, Mrs A.B. Awosika, told the court that the accused committed the offences on Aug. 10, 2014 at Marvina Hotel in Abule-Egba, a suburb of Lagos.
Awosika said the defendant sexually assaulted a woman (name withheld) by removing her clothes and rubbing an unknown substance on her body.
According to her, "The defendant proceeded to have an unlawful sexual intercourse with the victim without her consent."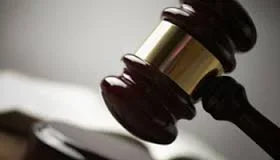 She said that the offences were in contravention of Sections 258 (1) and 261 of the Criminal Law of Lagos State, 2011.
NAN reports that Section 258(1) states that, ''Any man who has unlawful sexual intercourse with a woman or girl, without her consent, is guilty of the offence of rape and liable to imprisonment for life.''
Justice Kudirat Jose ordered that a probono counsel should be provided for Ajisoloye and adjourned the case till March 9 and March 10 for trial.
- NAN