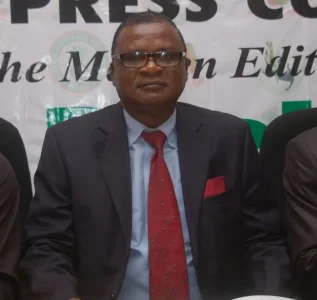 Vice president of the Nigeria Football Federation, Mike Umeh, has described the meeting held by the Aminu Maigari-led executive committee on Tuesday as illegal.
Maigari was only o Monday reinstated as the NFF president after FIFA faulted the impeachment process that removed him from power.
Umeh, who was the NFF acting president during Maigari's impeachment was absent at the NFF meeting, insisting that Maigari who called for the meeting,remains impeached.
"I wasn't at the meeting, nor were my board members, because it was not properly convened. Aminu Maigari, who convened the executive meeting, was impeached and he remains impeached until otherwise directed by the General Assembly.
"So the meeting itself and its outcome remain illegal to the extent of nullity, we're meeting tomorrow (Wednesday) at our office to properly deliberate on cogent and pressing football matters," said Umeh to supersport.com.
The agenda of the meeting was unknown, but Umeh said that the discourse will be known when they meet on Wednesday but it is certain to dwell on how to move Nigerian football forward.
"The agenda is known to the members and the public will be adequately informed once we're through with the meeting," said Umeh.
Last edited by a moderator: