The immediate past Finance Minister of Nigeria, Ngozi Okonjo-Iweala is 62 years today.
Below are 15 Things you should know about her.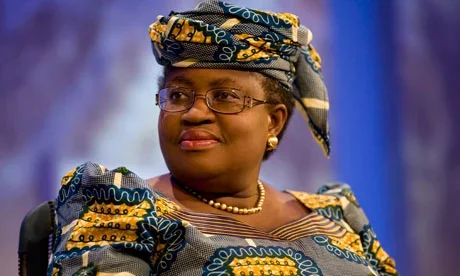 ----
"When I became finance minister, they called me Okonjo-Wahala – or 'Trouble Woman.' It means 'I give you hell.' But I don't care what names they call me. I'm a fighter; I'm very focused on what I'm doing, and relentless in what I want to achieve, almost to a fault. If you get in my way, you get kicked".
- Ngozi Okonjo-Iweala
1. Ngozi Okonjo-Iweala was was born on 13 June 1954, and married to Ikemba Iweala a Neuro-Surgeon.
2. Ngozi Okonjo-Iweala graduated from prestigious Harvard University with a Bachelor of Arts.
3. She earned her PhD in regional economic development from the Massachusetts Institute of Technology (MIT) in 1981 and received an International Fellowship from the American Association of University women (AAUW) that supported her doctoral studies.
4. Okonjo-Iweala has had a two stints with the World Bank Group, first as the vice-president and corporate secretary of the World Bank Group before her first tenure as Minister of Finance in Nigeria and as Managing Director in 2007.
5. She was reappointed as Minister of Finance and the Coordinating Minister for the Economy by President Goodluck Jonathan from 2011-2015.
6. Ngozi Okonjo Iweala led the team that negotiated an $18 billion debt write-off from the Paris Club in 2005.
7. Okonjo-Iweala also introduced the practice of publishing the monthly financial allocation to each state from the federal government in the newspapers. She played a major part in nigeria obtaining its first ever sovereign credit rating (of BB minus) from Fitch and Standard & Poor's.
8. Ngozi Okonjo-Iweala is the daughter of a king, but that is not her CV. The Harvard-educated economist has risen to become one of the most respected economists in the world, she is an inspiration and a pride of Africa.
9. She is now a Senior Advisor at Lazard, a Global financial advisory and asset management firm.
10. She is a board member at African Risk Capacity, a Specialized Agency of the African Union (AU) to help Member States improve their capacities to better plan, prepare and respond to extreme weather events and natural disasters, therefore protecting the food security of their vulnerable populations.
11. She is the Board Chair at Gavi, an international organisation - a global Vaccine Alliance, bringing together public and private sectors with the shared goal of creating equal access to new and underused vaccines for children living in the world's poorest countries
12. In 2007, Okonjo-Iweala was considered as a possible replacement for former World Bank President Paul Wolfowitz.
13. Subsequently, in 2012, she became one of three candidates in the race to replace World Bank President Robert Zoellick at the end of his term of office in June 2012.
14. On 16 April 2012 it was announced that she had been unsuccessful in her bid for the World Bank presidency, having lost to the US nominee, Jim Yong Kim. This outcome had been widely anticipated. However, this was the first contested election for World Bank president after the demise in 2010 of the Gentlemen's agreement that the US would appoint the World Bank president and Europe would appoint the managing director of the International Monetary Fund.
15. Ngozi Okonjo-Iweala is blessed with four children.