✅ NEW - car park, swimming pool, 24 hours light/security and more.
Nigeria on Tuesday agreed a currency swap deal with China, officials said, as it looks for ways to shore up its ailing currency and fund a record budget deficit, possibly by issuing yuan-denominated bonds in China.
The country has been for months looking for sources to help plug a projected 2016 deficit of 2.2 trillion naira ($11.1 billion) as President Muhammadu Buhari plans to triple capital spending.
During Buhari's visit to Beijing, the Industrial and Commercial Bank of China Ltd (ICBC) , the world's biggest lender, and Nigeria's central bank signed a deal on yuan transactions.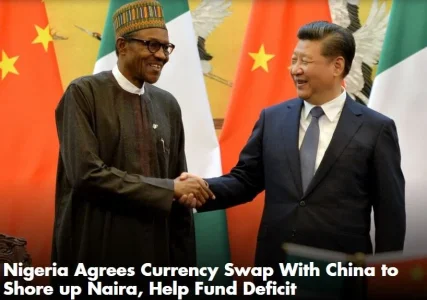 "It means that the renminbi (yuan) is free to flow among different banks in Nigeria, and the renminbi has been included in the foreign exchange reserves of Nigeria," Lin Songtian, director general of the African affairs department of China's foreign ministry, told reporters.
The agreement was reached following a meeting between Buhari and Chinese President Xi Jinping.
The move comes after Finance Minister Kemi Adeosun said on Saturday that Nigeria was looking at panda bonds - yuan-denominated bonds sold by overseas entities on the mainland -saying they that would be cheaper than Eurobonds.
Source