A 50-year old herbalist, Kamoru Oladele has been arrested for allegedly selling human parts between N25,000 and N30,000 and owning a human abattoir in Oyo and Osun states.
According to Vanguard, the Oyo State Commissioner of Police, Leye Oyebade, while parading him at the state Police Headquarters in Ibadan, said the breakthrough was made by the special anti-kidnapping squad of the Command after receiving intelligence report on the activities of the suspects.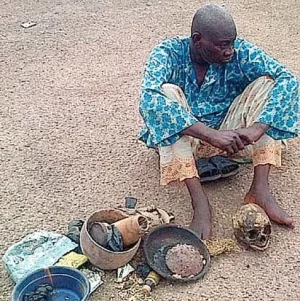 During interrogation, Oladele said: "I am a herbalist and I do fortune charms for people. I am not the one that usually sells human parts. I buy from some people. This is my first time of engaging in this kind of business. I usually buy the human skull for N10,000 and sell it for N25,000 for those that come for fortune charms".
When police searched his house, they alleged that one smoked human skull was recovered and that the suspect used coded words for different human parts. The herbalist said the words can only be decoded by their initiates, adding that "a human head that sells for N30,000 is called agbon (coconut)."
PLACE YOUR ADVERT HERE
Connect with people interested in education, social, crime and health News!
[3487]