✅ NEW - get your business listed and your information shared across social media.
This year also witnessed some spoken words from Notable Nigerians which should not be forgotten in a hurry.
These are quotes:
10.
"Mr Orubebe, you are a former Minister of the Federal Republic. You are a statesman in your own right. You should be careful about what you say or what allegations or accusations you make. Certainly you should be careful about your public conduct"
– Attahiru Jega.....
The former INEC chairman said this to Godsday Orubebe, after the PDP party agent created an embarrassing scene at the collation centre in Abuja, trying to disrupt announcement of results.
9.
"Go and die"
– Adams Oshiomhole. The incident happened as the woman knelt before Oshiomhole begging for her little means of livelihood to be saved. After which he shouted out the infamous phrase. Not funny at all, which was immediately noticed by Nigerians. The video of the great humiliation surfaced online and got people furious. Soon the governor apologized to the widow, donated N2 million to her and offered help with employment.
8.
"Ojukwu is a great man, he died but his manhood lives on"
– Patience Jonathan. Dame Patience put a noble meaning into the word "manhood", however internet users did not miss the opportunity to have a good laugh upon hearing it. It is worth mentioning that the former First Lady is often attacked in social media over grammatical blunders in her speech.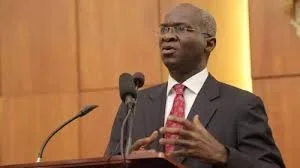 7.
"Stealing is not corruption"
– Goodluck Jonathan. At the Presidential Media Chat on Wednesday, February 11, 2015 former President Goodluck Jonathan stated that "Stealing isn't corruption".
6.
"I have never collected bribe in my life"
– Rotimi Amaechi. The former Rivers state governor, said this when questioned on corruption charges leveled against him during his ministerial screening at the Seante.
5.
"I might have ruffled a few feathers in the course of my duties, it wasn't personal"
– Lai Mohammed. Nigeria's minister of information stated this in his speech, during his ministerial screening.
4.
"My ambition is not worth the blood of any Nigerian"
– Goodluck Jonathan. The former president speaking at a special church service to mark this year's Armed Forces Remembrance Day, Jonathan reminded politicians that no ambition was worth the blood of innocent Nigerians, adding that if we continued to kill ourselves, there would be no nation to govern.
3.
"May our Loyalty never be tested"
– Fashola. The minister of power, work and housing said this in response to a question to god-fatherism during his ministerial screening.
2.
"Poverty is the problem between the mindlessly rich and hopelessly poor"
– Kayode Fayemi. The former Ekiti state governor said this during his ministerial screening.
1.
"I belong to everybody and I belong to nobody"
– President Muhammadu Buhari. The president said this in his inaugural speech as he was sworn in as the 5th democratic leader which was held at the Eagles' Square, Abuja.