Nigeria -
According to Dr Farinto Kayode, National Press Secretary of the Association of Nigeria Customs Licensed Agents, ANLCA, Nigeria loses over N5 billion daily in revenues because of the Apapa-Oshodi gridlock.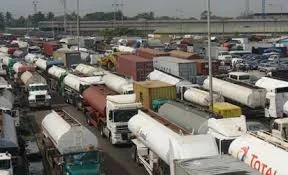 In a ThisDay report, he said the gridlock along Oshodi- Apapa Express Way, Wharf Road, Marine Brigde, Ijora and Orile was becoming unbearable and called for immediate solution to the traffic jam.
"You will recall that this great association some years back, envisaged that port users will have challenges on that road and advised against siting of tank farms within the ports area, especially along the port access roads, from Ijora to Apapa Wharf up to Tincan Island and towards Mile 2.
"But all our suggestions were ignored by the federal government under the administration of former President Olusegun Obasanjo who went ahead to give approval that tank farms be situated around Nigeria's busiest ports.
"This greedy, singular and callous act of executive recklessness has brought economic loss in terms of manpower and loss of valuable time to both the rich and poor.
"Commercial activities are gradually being grounded as the uncivilised and uncultured attitudes of most of the tanker drivers have become unbearable. They park their tankers indiscriminately thereby blocking the highway causing pains and discomfort to other road users."
The association, however called on the incoming administration of Major General Muhammadu Buhari( rtd) to find a long lasting solution.