✅ NEW - car park, swimming pool, 24 hours light/security and more.
The Nigeria Security and Civil Defence Corps, NSCDC, yesterday, arrested a 27-year-old man, Musa Inuwa, for allegedly punching a 60-year-old man to death.
The Commandant of the corps in the state, Abdullahi Ibrahim, disclosed this in an interview with the News Agency of Nigeria in Maiduguri, the Borno State capital.
He said that the suspect was arrested at Jidari Polo bus stop area in the state capital.
"The suspect was apprehended by the youth vigilance team known as civilian CTF who brought the accused to the NSCDC command on February 5 at about 9 p.m".
"The victim, who suffered grievous bodily harm leading to his death, was said to have asked the suspect were he can locate a chemist to buy drugs".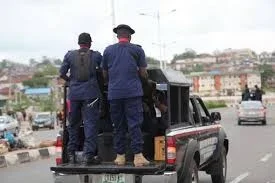 "Unknowingly to the victim, the suspect was already intoxicated on illicit substance and told the old man that he was disturbing him and before he could notice the suspect gave him a punch that made him fell forward and struck his head on the concrete pavement that rendered him unconscious."
"The victim, who remained in a critical condition, was quickly rushed to Umaru Shehu Specialist Hospital that night but unfortunately passed away on February 6 as a result of massive brain trauma," Mr. Ibrahim said", Ibrahim said.
According to him, the case has been transferred to the Borno police command for further investigation and prosecution.
- NAN