[WEEK 22] Nigeria News Week – 04th June, 2016
Former Chad President Sentenced To Life Imprisonment
Former Chad President Hissene Habre has been sentenced by the Special African Chamber in Senegal to life in prison. He has been found guilty of crimes against humanity for ordering the killing and torture of thousands of political opponents during his rule from 1982-1990.
Nigerian Gay Activist, Bisi Alimi Announces Wedding Date
Renowned Nigerian gay rights activist, Bisi Alimi has announced that he'll be tying the knot with his white partner, Anthony in five months.
Skales And Manager, Osagie Osarenkhoe Arrested By Police For Alleged Fraud
Baseline Music act, Skales and his manager, Osagie Osarenkhoe of M. et. al Ent ''Skales and His Manager Osagie have been remanded in Police Custody after confessing to various charges of fraud and diversion of Baseline Records funds.
Mohammed Ali In Critical Condition, Hospitalised
Former Heavyweight champion, Muhammed Ali has been hospitalized for a respiratory issue and is currently being treated by his team of doctors, family confirms.
Yobo Gets Political Appointment in Rivers State
Rivers State Governor, Nyesom Ezenwo Wike has appointed Former Super Eagles Captain, Joseph Yobo as Senior Special Assistant on Sports Development to the Governor.
Catholic Priest Joins Pro-Biafra Agitators In Anambra
Father Obinna of Owerri catholic diocese joined Biafra agitators to celebrate Biafra day with Independent People of Biafra (IPOB) which later turned bloody.
Feared Dead in Bloodly Onitsha Pro-Biafra Clash
No fewer than 30 persons and a soldier were allegedly killed on Monday in Onitsha, Anambra state after some pro-Biafran protesters, said to be celebrating the 50th anniversary of the declaration of the defunct Biafra republic, engaged soldiers and policemen in a bloody clash.
Federal Government Launch Ogoni Clean-Up
The Nigerian Federal Government has flagged-off a massive exercise on Thursday to clean up the areas which has been polluted by oil wastes in Ogoni land, Rivers state. President Mohammadu Buhari was represented by Vice President Osibanjo.
Drama As Saraki Demotes Tinubu
There was a mild drama at the Senate's plenary Thursday when the Wife of a leader of the All Progressives Congress(APC), Senator Oluremi Tinubu accused the Senate President, Bukola Saraki, of demoting her. Tinubu challenged Saraki for placing Senator Andy Uba higher than her during the adoption of votes and proceedings.
Niger Delta Avengers Threaten To Kill President Buhari
The Niger Delta Avengers threatened to kill President Muhammadu Buhari if he visits Ogoniland in Rivers state for the Ogoni Clean-up. IBT UK reports that one of the Niger Delta Avengers said the President should sign his 'death warrant' during a phone conversation with one of the hosts of UK-based Radio Biafra.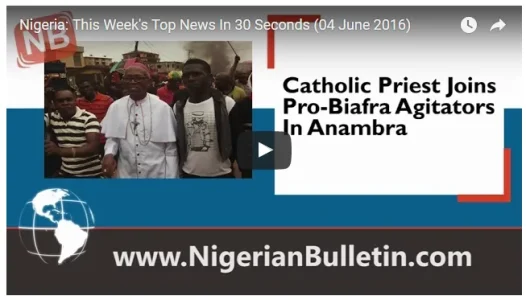 Last edited: