An investigation carried out by PUNCH Newspaper has revealed the salary structure Nigeria's mega rich churches pay their pastors.
The findings by SUNDAY ABORISADE revealed that many of the country's prosperity-preaching, super-rich mega churches pay their pastors poor wages.
The newspaper's findings revealed that a substantial majority of the pastors engaged by the churches earned as low as N25,000 per month while some only received a recharge card at the end of the month.
Another Nigerian church pays pastors on as earn basis - from Tithe and church offerings.

Redeemed Christian Church of God
Full-time pastors (ND Holders) - N25,000/month
B.Sc. Holders - N35,000/month
Full-time Area Pastor N40,000/Monthly - in charge of about five or six parishes
Full-time provincial pastor N85, 000 - in charge of about 100 parishes or a state
Tithes (10 per cent) of their salaries were usually deducted before salaries were paid.
Mountain of Fire and Miracles Ministries
The salary scheme for the clerics ranges from N25,000 to N80,000 depending on the level of their deployment.
Newly ordained ministers who assist pastors-in-charge at zones and regions during deliverance programmes get about N15,000 monthly.
Zonal pastors get N40,000 and N45,000.
Pastors in the regional arms of the church get about N80,000/Month
The Living Faith Church Worldwide - Winners Chapel
Newly-ordained pastor outside Lagos – N35,000/month
Newly ordained Pastors in Lagos earn between N45,000 and N55,000.
Area pastor with some years of experience – N85,000/month
Resident pastor (state pastor) -N200,000/month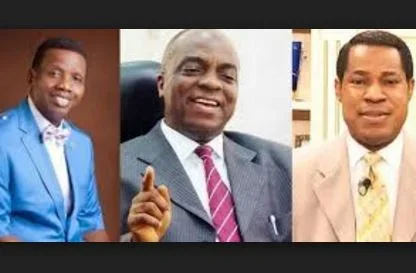 Believers LoveWorld - Christ Embassy
Newly-ordained pastor - N40,000
Most of the pastors are engaged on part-time basis while the few ones on full-time appointments are paid like other workers in the ministry.
Deeper Christian Life Ministry
- 95 per cent of its members in Lagos are part-time workers who receive no salary.
- The most the part-time pastors get is N5, 000 for recharge cards monthly
Overseers and senior pastors get around N2.5m to N6m per annum
Lords's Chosen Charismatic Revival Ministries
No salary structure for pastors but entitled to one-tenth of whatever income that the church generates every week in tithe and offerings.
Read more -
PUNCH