The 2015 AFCON qualifier match between Nigeria and Sudan left majority of Nigerians disappointed as the Super Eagles of Nigeria again made extremely slim their chances of making it to AFCON in Morocco next year.
The Sudanese team defeated Nigeria by 1 - 0. With this result, the current African Champion now stand at the bottom of the group behind South Africa, Congo and Sudan respectively.
The return leg of the match is scheduled for this Wednesday. The Wednesday match between Nigeria and Sudan is going to be a do or die affair for Keshi and the Super Eagles of Nigeria if they really want to feature in Morocco next year. They will have to win their next three matches to qualify.
Coach Stephen Keshi has been suffering a lot of criticism since Nigeria's exit from Brazil 2014 world cup. But he hasn't been able to prove his critics wrong as the Super Eagles continue to disintegrate in morale. Not been able to win any game so far in the 2015 AFCON qualifiers and suffering defeat from seemingly weaker African sides.
With the victory Sudan recorded last against Nigeria last Saturday, they'll definitely want to come out stronger on Wednesday to defend it against the Super Eagles with either a win or a draw. This is tough time for the Stephen Keshi led Super Eagles.
With the way things are going, should we expect a better performance from Keshi and his team against Sudan on Wednesday or it's all over for Nigeria as far as the 2015 AFCON qualifier is concerned?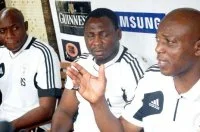 Last edited by a moderator: