The Nigerian military has declared the pro-Biafra separatist group, IPOB, a "terrorist organisation."
The military made the declaration in a statement on Friday by the Director of Defence Information, John Enenche.
In his statement, Mr. Enenche, a major general, listed five reasons the military considered for labelling IPOB a terror group.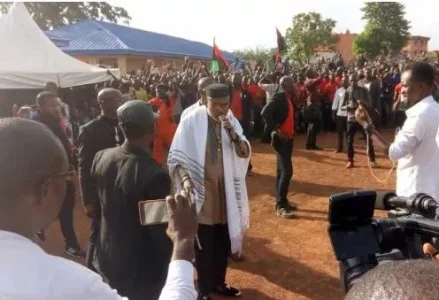 These include "The formation of a Biafra Secret Service, claimed formation of Biafra National Guard, unauthorised blocking of public access roads; extortion of money from innocent civilians at illegal road blocks, and militant possession and use of weapons (stones, molotov cocktails, machetes and broken bottles among others) on a military patrol on 10 September 2017."
IPOB and its leader, Nnamdi Kanu are campaigning for an independent country of Biafra made up of ethnic Igbos. Although they had said their campaign was non-violent, Mr. Kanu said this week that that stance would be reviewed, accusing the military of attacking unharmed members of his organisation.