✅ NEW - car park, swimming pool, 24 hours light/security and more.
Nigerian-born athlete Femi Ogunode over the weekend broke the Asian record with his 9.93 seconds win the men's 100m event for his adpoted country,Qatar.
Ogunode defied bad weather conditions to win at in Incheon on Sunday,powering past other competitors.
He defeated China's Su Bingtan and Japan's Kei Takase who both finished in second and third positions respectively.
Ogunode has already set his sights on doing well at the World Championship and the Rio 2016 Olympics,adding that he can even beat world record holder,Usain Bolt.
According to The Malaysian Insider, Ogunode said: "I have confidence in myself that I can challenge anybody."
"I see myself winning the gold medal in Rio."
He added, "I am fine without a coach, I know what to do," said the confident sprinter, who returned from a lengthy doping ban at the start of this year.
"Without a coach I can discipline myself and train myself. I've been training alone. When I'm training myself I believe in myself so strongly and I improve so much."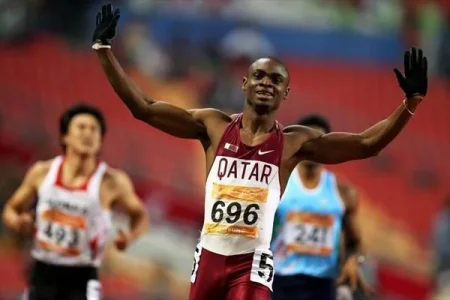 Photo Credit: iaaf.org