The Nigerian Medical Association (NMA) says its members are capable of handling any ailment, advised the government to upgrade health facilities across the nation.
They said Nigerian doctors could treat the president if the working conditions were provided.
In a communique issued after a national executive council (NEC) meeting in Kaduna, Mike Ogirima and Yusuf Tanko Sununu, president and secretary of the association, advised President Muhammadu Buhari to replicate in Nigeria what he saw in the London hospital where he was treated.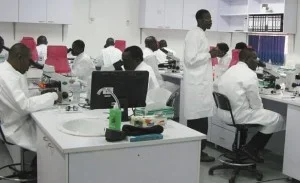 Expressing dismay with the "continuous low budgetary allocation" to the health sector, the doctors called on the federal government to implement the Abuja Declaration of at least 15 percent budgetary allocation to health and ensure timely release of funds.
"The nature of the president's ailment is not known to NMA, and even if it is known to us, we have to respect our oath of secrecy," they said.