✅ NEW - get your business listed and your information shared across social media.
The 2018 edition of the Nigerian Writers Awards has opened for nomination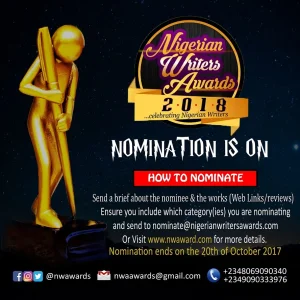 The platform was organized in 2015 to reward excellence, network and celebrate Nigerian Writers of different genres from literature, journalism entertainment and arts.
The 3rd edition will consider nomination for activities in the following period under review: March 2016- June 2017.
Categories includes;
Business writer of the year
Entertainment writer
Feature writer
Blogger of the year
Literary blogger
Health writer
Sports writer
Script writer
Poetry writer
Spoken Word
Poetry Promoter
Campus writer
Fiction writer
Non-fiction writer
Faith-based writer
Romance writer
Diaspora Writer Child/teenage writer
Young writer of the year
Writer of the year
Media House of the year (TV/Radio/Print)
Writers' Most Supportive Brand of the year.
Nomination will run through from 24th of August 2017 – 20th of October 2017, there will be pre-selection after the deadline of nominations and nominee list will be released in December 2017.
The announcement of the winners will be at the grand event which will hold in March 2018 in Nigeria.
HOW TO NOMINATE
i. Send a brief about the Nominee.
ii. The Nominee's Work. (Web Links or Reviews)
For Journalism Categories (send web links of published works, stories, features etc. Maximum of 3 links).
For Published Books (Send a Review of the Book(s) not more than 850 words and where the book(s) can be gotten-Online or Bookstores).
iii. Nominee Contact details if possible (Social Networks, Email or Telephone contact-To receive notification of nomination, event details and other necessary information).
Send entries to
[email protected]
For more information log on to
www.nwaward.com
.