The Kaduna State governor, Malam Nasir El-Rufai, yesterday in Ibadan said the discovery of oil in Nigeria is responsible for the brain drain in the country, adding that the earlier the oil dries up the better.
He also said Nigeria was not adequately policed, raising concern over the nation's central policing policy.
Governor El-Rufai, who spoke at the 2017 Founder's Day Celebration in memory of Prof Ojetunji Aboyade, which was organised by the Development Policy Centre, said because Nigeria got 'easy money' from oil, the nation lost its thinking initiative on how to develop other sources of revenue and diversify the economy.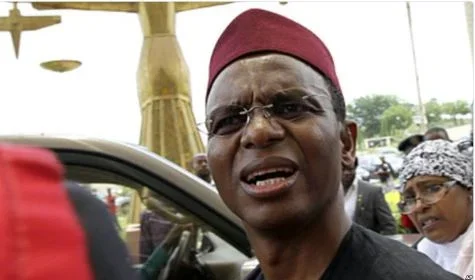 He said: "Having suffered brain drain, how do we attract back our Diaspora and the brain-gain associated with it like the Chinese and Indians have witnessed? These are the questions a distributive mentality around easy oil revenues is dodging. The earlier the oil dries up the better for our national ability to think, be innovative and respect intellect and academic achievement. We get easy money, we do not collect taxes and our taxes are six per cent of Gross Domestic Product; that is an average of 21per cent. We stopped respecting the intellectuals that we have in our universities because we got easy money."
El-Rufai said Nigeria lacked sustainable national planning policy capable of helping its development, adding that it was important to ensure that federal character policy did not become an enemy of merit in Nigeria.
[7328]