✅ NEW - car park, swimming pool, 24 hours light/security and more.
The Nigeria Labour Congress (NLC) has commenced mobilization of workers for an industrial action following the alleged attempt to remove the national wage from the Exclusive Legislative List to the Concurrent List by the National Assembly in the on-going amendment of the 1999 constitution, BusinessDay says.
Peter Ozo-Eson, NLC general secretary, who issued the threat notice disclosed that an emergency meeting of the congress' leaders and affiliate unions will be held on October 27 in Abuja, aimed at mobilisation of workers nationwide.
"We appeal to the Nigerian people to show understanding in the event of fall-outs from our proposed action.
"We at the congress see the removal of wages from the Exclusive List as an act of treachery masterminded by conservative governors and their cohorts in the National Assembly which will do the polity no good.
"We wish to state in no uncertain terms that the congress will mobilise its members to resist this move to scrap the national minimum wage.
"We recall that last year our national campaign and mobilisation on this subject matter was suspended at the instance of the leadership of the Senate which promised to revisit the issue now that they 'are better informed'.
"We recall paying tribute to the House of Representatives, who in their wisdom did not contemplate removing wages from the Exclusive List.
"It is also worth recalling that the just concluded National Conference retained wages on the Exclusive List in deference to the logic of the argument for the necessity of maintaining wages on the Exclusive List.
"We have generated and circulated enough literature on this subject matter and we are completely at a loss as to the rationale for this turn-around.
"We advise the National Assembly to hearken to the voice of reason and the voice of the people by urgently retracing their steps because the consequences of their action could be dire for the nation.
"We have explained as often as necessary that the basic rationale for the fixing of a minimum wage is to ensure that employees, particularly the unorganised and unskilled, are not exploited by their employers to the extent that their pay becomes so low that it creates a pool of the working poor.
"Minimum Wage Laws are in force in approximately 90 percent of the countries of the world today. Why would Nigeria leave this group for the negative 10 percent?
However, Emeka Ihedioha, deputy speaker, House of Representatives, on Thursday said the National Assembly at no time removed Labour from the Exclusive List.
#Nigeria #NLC #BusinessDay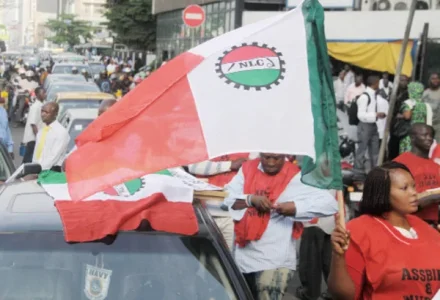 Last edited: