Northern governors on Thursday cautioned those agitating for restructuring of the country and the protagonists of the Republic of Biafra against endangering the unity of Nigeria, saying that the nation might not survive under such divisive tendencies.
According to Guardian Newspaper, the Chairman of the Northern Governors' Forum's and Governor of Borno State, Kashim Shettima listed three current issues threatening the unity of the nation as the agitation for restructuring, creation of a Biafran State and the Fulani herdsmen's attacks on communities.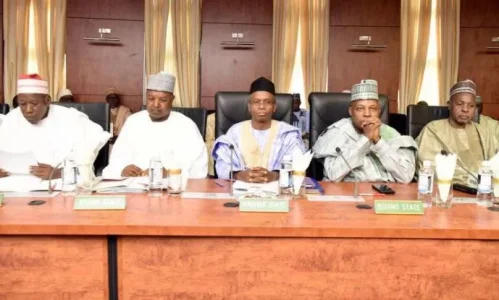 Shettima, who was represented by the Governor of Katsina State, Aminu Masari at the two-day meeting said organisations such as IPOB and MASSOB must be unconditionally condemned as they are inimical to national unity, stability, peaceful coexistence and national security.
"These elements must be encouraged to pursue their agitations within processes enshrined in our constitution and with the full and willing participation of all parts of our nation."
The governor urged southern leaders to condemn the agitation the way northern leaders condemned the ultimatum given by some northern youths to Igbo residing in the north to leave by October 1.
The governor of Kaduna State, Mallam Nasir El-Rufai, in an address, said: "We commend the resilience of our communities in the North-East which has begun the process of recovery from the ravages of insurgency.
[1799]