Operatives of the Nigeria Security and Civil Defence Corps in Kaduna State have arrested a blind man, Muntari Idris for allegedly aiding gangs involved in cattle rustling, kidnapping and other crime.
Idris, 50, aka Barrister, was arrested along with one Adamu Mohammed by operatives of the corps at Ungwar-Maigiginya in the Igabi Local Government Area of the state following a tip-off.
The blind man, it was gathered, claimed to be a businessman in landed property and specialised in bailing "criminals who indulge in cattle rustling, kidnapping and other criminal acts in the state".
According to PUNCH, the suspect was quoted in a statement by the state NSCDC's spokesman, Orndiir Terzungwe, on Monday, to have denied involvement in the crime.
Barrister was said to have told the corps operatives that Mohammed "deliberately implicated" him.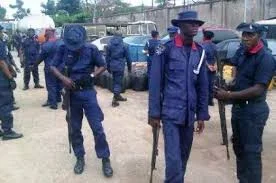 Mohammed had confessed that he had accompanied Barrister many times to secure bail for suspected criminals.
Mohammed had explained that most of the suspects bailed by Barrister were those detained in connection with cattle rustling and kidnapping, among others.
Mohammed said, "I wish to state that my present boss, Barrister, bails offenders, especially cattle rustlers and kidnappers, for a living.
The state Commandant of the NSCDC, Alhaji Modu Bunu, said he had handed over the suspects to the Department of State Services in the state for further investigation and prosecution.
- Punch