Governor Ayodele Fayose of Ekiti State has said that former Minister of State for Defence, Mr. Musiliu Obanikoro's allegations of giving him money to fund his 2014 gubernatorial election is not true.
Fayose in an interview with
DailySun
said "May be, my brother and friend, Obanikoro is looking for easy way out so they have to heap everything on Fayose".
The vocal governor said he wouldn't want to join issues with EFCC or Obanikoro.
"I'm used to all these conspiracies and the fact remains that in all these, Jesus is Lord, in all these, victory is sure, in all these, I've not lost any battle and I'll not lose any.
Again, if Obanikoro says he gave me such huge money, where did he get it from? Why will he take such huge cash like that? Why will an honourable federal minister of the country be saying that he took cash like this and gave to me? You can now see how EFCC operates, but we will talk about that when we get to court.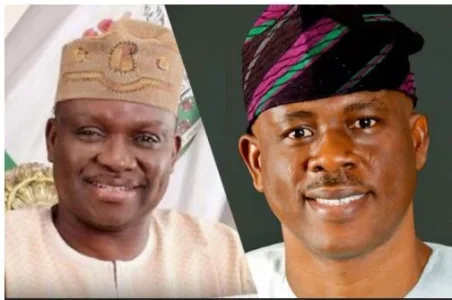 "They are only looking for ways for nexus, to link me at all cost, to destroy me at all cost. It is just like in the Bible when they asked the people should we replace the thief with Jesus for the punishment but the people said no, it is Jesus we want. But at the end, contrary to their thinking that killing Jesus would be the end, Jesus Christ's ascension has glorified Him; in His name now, all knees bow in heaven and on earth and all tongues confess.
"So, it's Fayose that is all they want in all these drama, I hope that by now, they would have released all Obanikoro's confiscated assets and property.
"In the meantime, I am busy as governor of Ekiti delivering good governance to my people", he said.
[4658]