✅ NEW - get your business listed and your information shared across social media.
Three of Nigeria's former Heads of State; Olusegun Obasanjo, Ibrahim Babangida (IBB) and Abdulsalami Abubakar held a private meeting in Minna, the Niger state capital on Monday.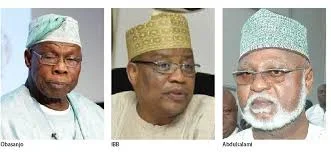 According to LEADERSHIP, the meeting which took place at the home of Babangida lasted for over two hours. The closest domestic and security staff in the house of IBB were reportedly excused from the inner chamber at the time the meeting started.
Details of the meeting are yet to be made public.