Former President, Chief Olusegun Obasanjo, on Friday talked about the demise of his former party, the Peoples Democratic Party, PDP.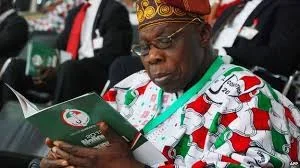 Speaking during the display of 40 African traditional drums in commemoration of the 40th anniversary of Nigeria's hosting of the World Black and African Festival of Arts and Culture, popularly known as FESTAC 77, Obasanjo said, the PDP sank when he and a former chairman, Ahmadu Ali, left the party.
"When he (Ali) was the Chairman of the PDP, we controlled 30 out of the 36 states. When Ahmadu Ali and I left, the fortune of the PDP sank. May the fortune of Nigeria never sink."
The audience thundered 'Amen' in response to Obasanjo's comment.