Former President, Chief Olusegun Obasanjo's words at the First Akintola Williams Annual Lecture has caused disarray between him and the lower chamber of the National Assembly.
Obasanjo in his lecture titled: "Nigeria Yesterday, Today and Tomorrow: Governance and Accountability",described the National Assembly as a den of corruption by a gang of unarmed robbers.
His words: "If the Judiciary is being cleaned, what of the National Assembly which stinks much worse than the Judiciary? Budget padding must not go unpunished. It is a reality, which is a regular and systemic practice. Nobody should pull wool over the eyes of Nigerians.
"The National Assembly cabal of today is worse than any cabal that anybody may find anywhere in our national governance system at any time. Members of the National Assembly pay themselves allowances for staff and offices they do not have or maintain. Once you are a member, you are co-opted and your mouth is stuffed with rottenness and corruption that you cannot opt out as you go home with not less than N15 million a month for a Senator and N10 million a month for a member of the House of Representatives. The National Assembly is a den of corruption by a gang of unarmed robbers.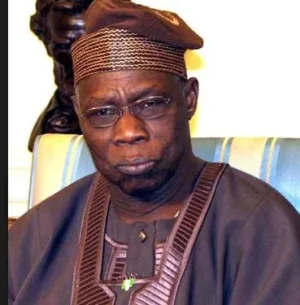 Related: Reps Hit Back At Obasanjo, You Are The Grandfather of Corruption
Like the Judiciary, the National Assembly cannot clean itself. Look at how re-current budget of the National Assembly with the so-called constituency projects has ballooned since the inception of this democratic dispensation. What were their budgets in the 2000, 2005, 2010 and 2015? The revelation was both alarming and scandalous. Once, when I was President, I asked outside auditors, both normal and forensic, to audit the account of the National Assembly, they frustrated it on the basis of separation of power. They claimed they had oversight responsibility for their corruption and misdemeanour and nothing can be done. It is like asking a thief to watch over himself.
There must be full disclosure of all relevant fiscal information in a timely and systematic manner at all levels.
Budget transparency is a precondition for public participation in budget processes. The combination of budget transparency and public participation in budget processes has the potential to combat corruption, foster public accountability of government agencies and contribute to judicious use of public funds.
The National Assembly budget process is not only carried out in opaque and corruptive manner but also in grossly unconstitutional manner.
Hence, our lawmakers are lawbreakers. They are the accused, the prosecutor, the defenders and the judge in their own case. Most of them conduct themselves and believe that they are not answerable to anybody. They are blatant in their misbehaviour, cavalier in their misconduct and arrogant in the misuse of parliamentary immunity as a shield against reprisals for their irresponsible acts of malfeasance and/or outright banditry.
We should not continue to live with the impunity and corruption of the National Assembly. Yes, I believe that something can and should be done. The President should ride on the crest of the popularity of what is happening in the Judiciary to set up a highly technical team of incorruptible investigators to look into the so-called constituency projects of the past and the present and bring culprits to book. The President has overall responsibility and accountability for any fund appropriated under his watch. There would be many of such projects and the National Assembly would try to frustrate such necessary investigation. But the project sites are known and magnitude of funds voted for them are known. The investigation will reveal the true situation.
Nigerians will be shocked with what such enquiries would unearth. Measures to be taken should include stopping spurious constituency projects with immediate effect. And if our lawmakers-turned-lawbreakers manage to smuggle any so-called constituency projects into the budget, money should not be released for such scandalous projects. They would, as they tried with me, threaten impeachment. But a clean Judiciary and a cheated Nation should stand with the President. There should be no going back".
[664]