The Federal Government on Thursday gave reasons for the delay in the commencement of Ogoni clean-up exercise, saying it was to build a solid foundation for the project.
It will be recalled that in June, Vice-President Yemi Osinbajo, launched the "Clean-Up of Ogoniland" at Bodo, Gokana Local Government Area of Rivers State.
But since flag-off the project experienced hiccups.
However, Minister of Environment, Amina Mohammed, said every arrangement concerning the project has now been perfected, including the issue of funding.
Mrs. Mohammed, who spoke at the 10th Anniversary of NOSDRA, in Abuja, said: "Talking about Ogoni spill, all resources have been made available and the money has been released.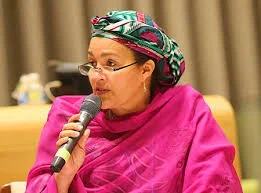 But if you do not have structure in place the money will go into the ground and people will not feel the impact. It is important for us to put together structure and make sure that we have a solid foundation.
Who is in the office, who is the budget manager and how are they recruiting? All of these were not taken care of in the past. But this time, we believe that by the time we leave, people will see result. It will be a continuing process and in the next few months people will be seeing some of the issues that they had not seen."
The minister maintained that it was important for militants to stop further oil spillage by putting a halt to bombing of oil facilities to assist the exercise.