The police in Ogun State Command have arrested a 23-year-old jobseeker, Ibrahim Sulaimon, for allegedly killing a motorcycle rider, Rafiu Gafar, in the Ajuwon area of the State.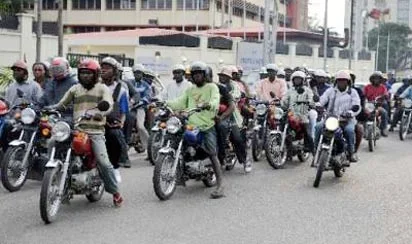 It was gathered that the duo had an argument over money, after which the suspect hit the father of one with plywood on the head several times.
He slumped and was confirmed dead at a private hospital in the area.
A family member, who did not want to be identified, told newsmen the deceased just newly wedded his wife.
He said, "He went out that day for work. He always plied Ajuwon and its environs. But everybody was surprised when he did not return home. We searched for him for four days without any trace.
"Nobody knew anything until a policeman came from the Ajuwon Police Division and showed us pictures of his dead body. He told us that he was hit with plywood on the head several times that Thursday when he went missing, over mere N150."
He said, "When they got to the plaza, they gave him N500 and demanded a change of N350.
"But Rafiu told them that he didn't have the change and Ahmed offered to go inside the house to collect a N200 note from his wife.
"However, because he was taking too long, Rafiu started complaining that they should hurry so that he could continue his work.
"There was a verbal exchange between him and the suspect. The suspect became angry, picked plywood used to cover a cesspit, and hit him on the head."
The suspect, Sulaimon, an indigene of Kogi State, confessed to the crime in his statement to the police.
He attributed his action to the devil, saying he regretted it.
The state Police Public Relations Officer, Abimbola Oyeyemi, confirmed the incident, adding that the suspect would be arraigned at the end of investigation.
[1254]