✅ NEW - get your business listed and your information shared across social media.
Ohanaeze Ndigbo has said it would meet with Nnamdi Kanu, leader of the Indigenous People of Biafra, IPOB, to accept restructuring of Nigeria.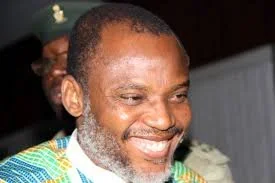 Deputy National Publicity Secretary of Ohanaeze, Chuks Ibegbu disclosed the planned meeting. He said, "Ohanaeze will definitely discuss with him (Kanu). Ohanaeze has been making efforts to parley with all the pro-Biafra groups and find a point of agreement with them on these issues.
"Even before now, Ohanaeze wanted to send a delegation to see him in Kuje Prison. We planned it before he was granted bail. We will engage him and some of his associates so that we can find a common ground. He is our son, we understand him and he will understand us. If there are areas of divergence, we will find ways to address it so that we can work together.
"At the planned meeting, Ohanaeze intends to make Kanu understand and appreciate its position, which is the restructuring of the country, rather than secession. Ohanaeze's position is restructuring and his (Kanu's) position is secession. We will not tell him to drop his desire for self-determination but we will make him understand that Ohanaeze's position is the position of the Igbo people.
"He has the right to seek self-determination, but we will make him appreciate Ohanaeze's position, which is restructuring and social justice. Ohanaeze's position is the position of the totality of the Igbo people. We will also make him understand that there is no need to insult anybody in the agitation, and no need for violence – of course he has never been violent."
"Restructuring is the only solution to the problems in this country. With restructuring, even the issue of corruption would be addressed. What generates corruption? When the system is suffocating people, when the system is not properly coordinated, people will be stealing here and there. You cannot stop corruption by force. Even the issue of lopsided appointments is corruption. We have to address the fundamental issues."