✅ NEW - car park, swimming pool, 24 hours light/security and more.
Reno Omokri, former Aide to former President Goodluck Jonathan has accused the Muhammadu Buhari led administration of afflicting pains on Nigerians.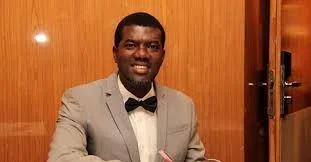 In a Facebook post, Omokri wrote, "
In 2010, Gallup polls rated Nigeria under Goodluck Jonathan as the 'happiest nation on earth.

In 2017 under President Muhammadu Buhariwe are not even the happiest nation in Africa.

We are rated 6th happiest in Africa! In 2014, Nigeria under Jonathan had her best improvement in Transparency International's Corruption Perception Index, moving from 144 to 136.

We have not made any improvements under the so called anti-corruption administration of President Muhammadu Buhari.

You can fool gullible Nigerians, but you can't fool the world. GEJ fired any of his ministers involved in conflict of interest not to talk of corruption including Professor Barth Nnaji and Stella Oduah.

PMB on the other hand prefers to write letters defending his own SGF caught RED HANDED in grass cutting corruption. And you are here still being deceived that there is an anti corruption war in Nigeria. I am sorry for you!"

That Nigerians believed APC's lies proves we are more malleable than an amoeba. A woman who believes everyman ends up with unwanted pregnancies."

"Where is your $1 to ₦1? Where is your ₦40 per liter petrol? Where is your job seekers allowance? Where is your uninterrupted power? Where is the President that promised to lead from the front? Where is the 740k "immediate relief jobs for graduates"? Where is the three million jobs in three years?

But the real question though is where is your brain if you actually believed these promises?"