✅ NEW - car park, swimming pool, 24 hours light/security and more.
Nollywood Actress, Omoni Oboli has spoken against domestic violence.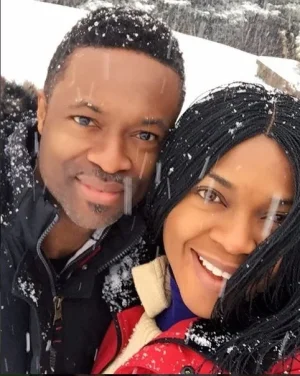 In a Instagram post, she celebrated her husband while urging people to avoid using their partners as punching bags. Oboli wrote, ''We are not perfect...but our love is perfect We are totally flawed but love covers a multitude of sins. @nnamdioboli thanks for loving an imperfect me!
''Now...the reason for this post...there's no reason to hit a spouse or a partner. There's no scenario where it's excusable. If your spouse is upsetting you at any point and you feel you can't take it, walk away!!! Wetin?!!! A spouse is not a punching bag! This applies to both men and women...because I heard some women are Mike Tyson wannabes. This thing is getting out of hand! Abeg, your spouse did not cause the recession. Don't transfer agression! It's also not ok to have a violent relationship so you can have great makeup sex! One day, That play will lead to someone's death.
''Please, I'm begging you, if you are guilty of this, cease!!! Stop it now! While, I'm not an advocate for divorce, Pls speak up if you are a victim. Don't keep quiet to your grave. May God help us all #SomethingMAJORisComing #OkaforsLaw #InCinemaNationwideFromMarch31 #ChildOfGrace #NoToDomesticViolence