✅ NEW - get your business listed and your information shared across social media.
A mild drama ensued at the Court of Appeal on Wednesday when the Chairman of the Panel, Justice Ibrahim Saulawa accused Prince Poroye's counsel of acting contemptuously towards the court.
The drama started when Sherif-led PDP factional Chairman, Poroye's counsel, P. I. Nwofor (SAN) was making an application urging the appellate court to hands off the matter pending the time Supreme Court decided on the appeal on the case before it.
One of the judges on the panel, Justice Godwin Mbaba told Nwofor the way he was addressing the court was with much audacity. To this, Nwofor took exception to the statement saying respect is expected to beget respect.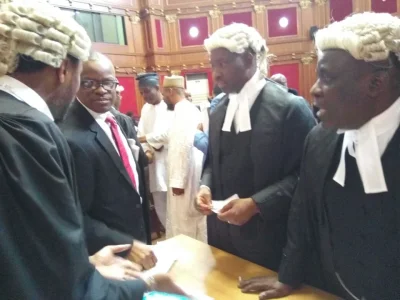 'Your disposition towards this court is contemptuous", Saulawa told Nwofor.
To this Nwofor said it is not true that he acted contemptuously.
Jimoh Ibrahim's counsel J.A. Badejo (SAN) while apologising to the panel said "we treat the bench with utmost respect. We should all maintain decorum so that in the temple of justice we would be able to serve the larger society."
- Dailytrust