✅ NEW - get your business listed and your information shared across social media.
Embattled gubernatorial flagbearer of the Peoples Democratic Party (PDP) in the forthcoming election in Ondo State, Dr. Jimoh Ibrahim has lambasted Ekiti State governor, Ayo Fayose over his statement that the party's candidate can never be governor of Ondo State.
In a terse message to the governor, titled: Fayose, too early to panic, Ibrahim disclosed that the same horsewhip used for the incumbent Ondo State governor, Olusegun Mimiko, would soon be visited on the governor.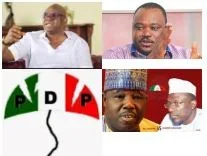 He said: "The crisis in Ondo State PDP has not degenerated to a situation where a judge was beaten up in his court during proceedings as it was in Ekiti State during Governor Fayose's bid to become governor. There is no need for Governor Fayose to panic at this time as it is too early to do so.
"Let me remind Governor Fayose that I am not ex-Governor Fayemi and it is now a payback time to treat Governor Fayose exactly the way he treated Fayemi using the framework of how the clustering disaster was resolved in Ekiti State leading to Governor Fayose's "victory."