✅ NEW - get your business listed and your information shared across social media.
Embattled candidate of the Peoples Democratic Party, Jimoh Ibrahim, has expressed confidence that his name will remain on the ballot as the candidate of the party in Saturday's governorship election.
Mr. Ibrahim said this on Tuesday against the backdrop of the Supreme Court decision, dismissing his suit seeking to restrain the Appeal Court from sitting on a matter to decide who the authentic candidate of the party is.
He said in Akure while reacting to the Supreme Court decision, said the decision was a good development.
He said the decision had not affected his candidature, assuring that he would win the coming election.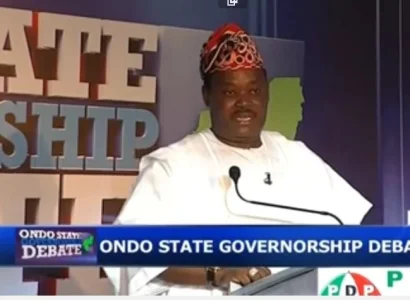 "Has the court changed my name?" he asked when told to react to the development. "If you bring a matter before the Supreme Court and the court says you should go back to the appeal court to hear the case how does that affect me?"
He also said he would win the election under the banner of the PDP.
"It is not possible for my name to be removed for this election, it is not possible," he said.
"Nobody can remove it, it is there and it will be there until Saturday."