✅ NEW - get your business listed and your information shared across social media.
The protracted enmity between the Edo state Governor, Comrade Adams Oshiomhole and former chairman of Board of Trustee, BOT of Peoples Democratic Party, PDP, Chief Tony Anenih has been laid to rest.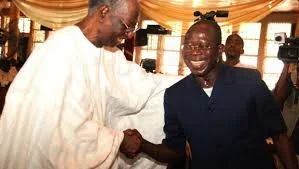 The move was initiated by the governor, weekend at Uromi at the canonization and 10th year anniversary of the Catholic diocese of Uromi.
Oshiomhole, it was gathered had on the previous day sent emissaries to go before him to meet Chief Anenih and peruse the intent of the heart of the octogenarian .
The sitting arrangement in the church was mixed as politics was completely set aside by both PDP and APC. The Governor sat next to Chief Anenih who sat next to Mr. Orbih, and was next to Chief Odigie-Oyegun. The political rivals exchanged pleasantries and complimentaries.
Oshiomhole rendered his apology to Anenih at his homeland, Uromi in the presence of over a thousand witnesses. Oshiomhole to Anenih, he said: "my leader and MY father, at different time I know that I have offended you by the position of our political differences.
"I feel that there is no other way and as the occasion, right now present us, there is nowhere suitable to call for forgiveness and I will like to passionately appeal to those and to you my leader, Chief Tony Anenih that you forgive me. I beg for your forgiveness Sir," the governor expressed.
Oshiomhole's grievance with the PDP chieftain came to crescendo after Mr. Fix It as Anenih is fondly called allegedly stole the governor's mandate in the 2007 April governorship election t and gave it to a two-term senator , Prof. Osariemen Osunbor apologise.