A bomb on a bus carrying government employees in the Pakistani city of Peshawar killed 15 people on Wednesday, officials said.
The attack took place on a main road after the bus picked up government workers from districts surrounding Peshawar and was taking them to work in the city.
Senior police official Mohammad Kashif said 15 people were killed and 35 wounded. A hospital official said the death toll was likely to rise.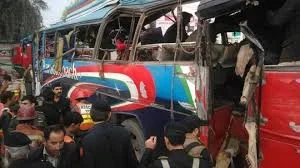 "It's premature to comment about the nature of the blast but it appears that explosives were planted inside the bus," Kashif said. "There were 40 to 50 people on the bus."
Lashkar-e-Islam, a militant group allied with the Pakistani Taliban, claimed responsibility, saying it was to avenge a military court's sentencing of 13 militants to death on Tuesday.
Source: Reuters
[1859]