Palm wine business is thriving in Ekiti as demand for the product is on the increase and it has improved the standards of living of those engaged in it.
Palm wine was once a major drink served in most social gatherings in entire South-West before the proliferation of beer and other imported drinks.
A tapper in Ikole, Mr Ajewole Abiodun, said: "It baffles me seeing many people, especially people with big cars coming to my centre to drink palm wine.
"The demand for the product is on the increase in recent times unlike before when I hardly earn N1, 000, but now, I realise between five thousand naira and seven thousand naira daily.
Another palm wine tapper, Mr Olawumi Abidakun, corroborated the increase in demand of palm wine.
According to him, it has assisted him to complete a six-room apartment in his home town.
"Apart from that, I have set up a business for my wife and my children are now attending private schools,'' Abidakun said.
He said that none of his children would be encouraged to embrace the profession due to the risk involved.
"Little mistake can make you fall from raffia tree which can result to death or spinal cord injury; snakes at times hide on top of raffia trees and strike while trying to kill it,'' he said.
On his part, Mr John Ameh, another palm wine tapper, attributed the high patronage to the dry season and "the fact that the product is medicinal''.
He called on colleagues in the area to form cooperative societies in order to enjoy government recognition and support.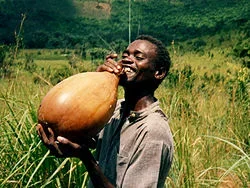 [1004]