✅ NEW - get your business listed and your information shared across social media.
The immediate past President of the Christian Association of Nigeria, CAN, Pastor Ayo Oritsejafor has explained his role in the boko haram activities that rocked the Northern part of Nigeria as well as the Nation largely during the administration of former President Goodluck Jonathan.
Oritsejafor, in a farewell speech delivered at the ratification and the handing over to the new CAN President, recalled how certain northern Christians, worried about happenings in that region, "took the pain to call on me to become the national leader of the Church in Nigeria".
The immediate past CAN President went on: "With hesitation and uncertainty, I offered myself to serve. On assumption of office, I was confronted with a Church in dire need of pragmatic leadership, with both internal and external challenges. We came in at a period when the challenges of the Church had reached a point that lots of Christians in northern Nigeria had been displaced from their homes and churches. Some pastors, particularly in northern Nigeria, were closing their churches. Lots of fellow Nigerians had become internally displaced persons in their homes".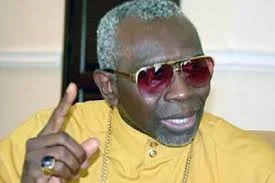 The financial situation of the association at that time, he stated, was precarious, but "God helping us, we were able to raise the alarm both in Nigeria and in the international community that Boko Haram was a terrorist group when most people were playing politics with it".
Oritsejafor continued: "This necessitated my boldly addressing the American Congress and insisting that Boko Haram should be domesticated as a terrorist organization. To our delight, it was so domesticated though still wreaking havoc in some parts of Nigeria.
"We also took the pains to visit victims of the insurgency in most of the northern states, especially in Borno, Bauchi, Gombe and Plateau at the heat of the attacks to encourage our brothers and sisters to remain calm and peaceful. We were able to visit most Internally Displaced Persons (IDPs) camps to provide them with relief materials and encouragement at personal costs".