The crisis in the People's Democratic Party (PDP) may have assumed an irredeemable dimension with strong indications last week that the the trio of former governor of Kano State and former Education minister Mallam Ibrahim Shekarau, former governor of Jigawa State Sule Lamido and former Deputy Senate President Ibrahim Mantu, DailyTrust revealed.
Others mentioned in the scheme include former minister of the Federal Capital Territory Senator Bala Muhammed, former deputy governor in the old Sokoto State Ahmed Muhammed Gusau, former governor of Bauchi State Isa Yuguda, former governor of Cross River State Donald Duke, Senator Ahmed Mohammed Makarfi, Senator Ibrahim Ida, Adamu Maina Waziri, Ibrahim Idris, Aminu Wali, Abba Dabo, John Odey and Aniete Okon. A former Senate president, Ken Nnamani, is said to be the interim leader of the group.
Mallam Shekarau was understood to have last week hosted 23 members of the group in his house in Abuja while there had also been meetings in Nnamani's office.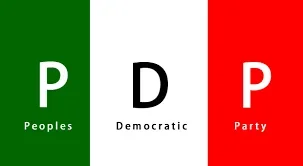 "Yes, we are trying to rebrand and weed out bad eggs in the party and it is the process that will lead to the formation of a new party," said aide close to Shekarau. "Initially, we had two options, that is, whether to rebrand the PDP or form a new party.
"Arguments are in the favour of the formation of the party, hence resolution of our bigwigs. The direction now is the formation of a new party but we will definitely draw for the resources of the PDP to make headway," he said.
While many of the names disclosed to be on the list did admit in separate chats with the Daily Trust on Sunday that they gathered to discuss the crises in the PDP, they all denied that the focus of their meeting was to form a new party. But some of the bigwigs gave enough hint to indicate that some like-minds in the party are regarding other members as no longer worthy to fraternize with politically.
Source: Dailytrust